What I said at the Hugos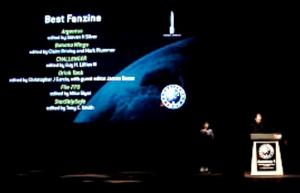 I really meant to do this months ago, but got distracted.
Thanks to the miracle of the Internet the video of the full Hugo ceremony is just a click away.
In case it should cease to be available in the future, I though it would be a good idea to transcribe what I said when presenting the best fanzine award.
"I think one of the traditions which is unique to science fiction fandom is fanzines. I know there are fanzines in other fields, bit I think our ones are quite different and unique to us. I think it's something that has really defined us over the years. I think it's got easier with technology, but our standards have got higher. We enjoy each other's fanzines from other parts of the world, so for me it's a great honour to be presenting this year's best fanzine award. The nominees are..."
Reading it back it sounds a little clunky. I really wish I hadn't said "I think" quite so many times. But when you're on stage, ad libbing in front of a room filled with over a thousand people, it's you don't really think of that. I didn't really want to have my introduction written word for word as I hoped it would sound natural. Perhaps that was a mistake, but I'm happy with the general gist of what I was saying.
I'm still really chuffed to have had the opportunity and privilege to present a Hugo award, and it was definitely a major highlight of the trip.
I'm about 39 minutes into the video if you're looking for me.