First stop off: Heathrow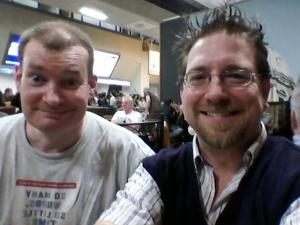 Well, here I am in Heathrow.
Liam stood me up to go surfing in cornwell, but that's okay - I'd have done the same (if I wasn't going to Australia instead).
However, James Bacon met me instead on his lunch break, so that was cool. Then went to the pub for beer and fish'n'chips (that's french fries for any Americans). Going to head over to check in a while (just have to confirm which terminal to go to).
Also been charting with Kate about my programme items, so that was useful. Isn't the internet wonderful?
Next stop Bangkok.